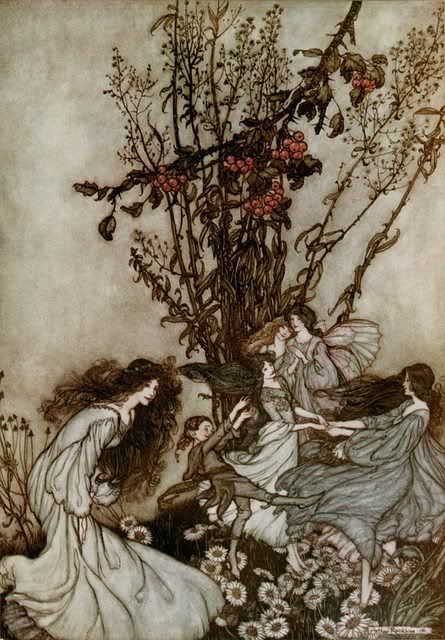 i'm a nerd and i'll prove it. when i was a kid i totally used to draw fairies, like, all the time. like...when i was 17, ahem, and had dreadlocks, ahem, to my waist.
i totally tried to emulate brian froud, aubrey beardsley and arthur rackham.
i loved this rackham poster that belonged to my mom entitled 'we feel dancey'. i loved that fairies never say 'we feel happy' what they say is 'we feel dancey'. i still like that, i'm not afraid to admit it. see? still nerdy.
well i'm older now, i cut my hair years ago and i mostly draw things like sandwiches or my cat. sometimes though i still need an outfit to feel dancey in, old-fashioned eliz dancey--drapey and fluttery and full of wonder and enough love to break your heart. this one will do just fine.
toss on a breezy nokomis 'thistle dress', $135
belt it up with a nokomis 'lizzy' belt, $65 and add a beautiful mono 'lace vest', $279
top it off with a mono 'knotted scarf', $69 and voila! instant future-fairy (to adapt the concept of "future-hippy" as invented by
regine and katie
)