our spring collection is all about daydreaming, dress-up, and fantasies of far-away places, though firmly rooted in prairie practicality. the dresses are named for the colours and shapes they evoke but also for characters of imaginary whimsy.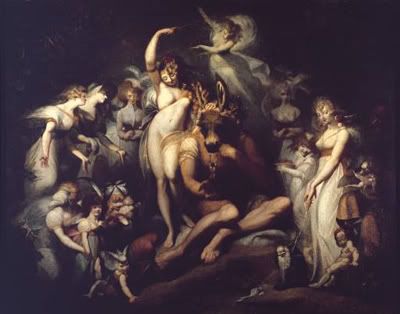 if you've ever read a midsummer night's dream you may remember peaseblossom as one of four fairies (along with moth, cobweb and mustardseed) ordered by titania to attend to her donkey-ish lover, bottom. i know, i know, enough with the fairies right? well, see, that's what i was dreaming about while dressed up at my grandmother's house when
i
was a kid. evidently that's
still
what i was dreaming about last year while designing our spring collection as i knew i wanted to create a peaseblossom dress (and a moth and a cobweb).
i keep forgetting to blog about it but our peaseblossom dress arrived in store recently and i'm so happy with it. it reminds me of a plump petal blossoming out, upturned, from the waist. the halter bodice is like a sleek grounding stem and the wooden buttons bring the whole thing back to the world of reality. the dress is available in a pale pink (a good way to incorporate the pale nude tones that are hot for summer) or a striking black, which is my favorite. we've also just added the dress for sale
online
. the paintings are by henry fuseli and more can be found
here
if you want to scare the crap out of yourself.